Thermopolis Cowboy Rendezvous Rodeo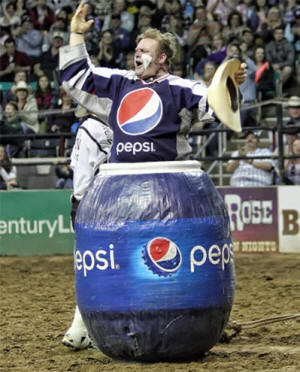 Justin Rumford is not your average rodeo clown...he brings his own brand of comedy to the rodeo arena with nods to his favorite comedic actors, such as Kevin James and the legendary Chris Farley. Rumford was raised in the family rodeo stock contracting business that was started by his Grandpa Floyd in Abbyville, Kansas. After his college days of bull fighting, riding saddle broncs and steer wrestling came to an end due to a knee injury, he decided to try his hand at being a rodeo clown. It turns out that providing his style of comedy for rodeo fans, while putting his years of bullfighting to use as a barrelman was just the change he was looking for! He has since been named the Coors Man in the Can for the second time (2015, 2013) and the PRCA Clown of the Year for the 6th consecutive time in 2017! He also was named the 2014 Wrangler National Finals Rodeo Barrelman. Rumford says his goal is to make people laugh and enjoy their two and a half hours away from the stresses of everyday life. His motto is "If you've had a good time, then I've done my job!"

Justin and his wife, Ashley have made their home in Ponca City, Oklahoma. In September of 2013, they became parents to a set of triplets!! They have two daughters, Livi and Lola, and a son, Bandy. Now Justin and Ashley travel the country together with their children in their toy hauler trailer. They love touring the rodeo towns they visit and meeting new friends! So sit back, get ready to laugh...and enjoy the Rumpshaker!


---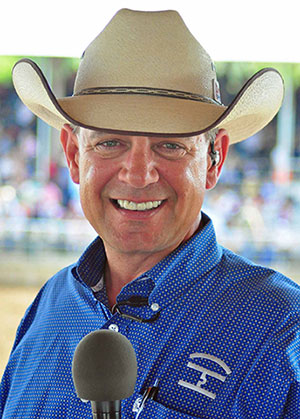 Chad Nicholson: 2018 Rodeo Announcer
VOICE OVER ARTIST, PRO RODEO ANNOUNCER, & MOTIVATIONAL SPEAKER
http://chadnicholsonvoiceproductions.com/






---

Rattlesnake Ridge Band: Rattlesnake Ridge is the newest band in Worland, WY covering many parts of Wyoming with their Country, Rock, and Blues style music. Call (307) 431-0010