Thermopolis Cowboy Rendezvous Rodeo


---
"Entertainer" isn't a job title for Dalton Morris, it's a way of life. Dalton is a third generation rodeo entertainer, and already at the age of 25 he has made a lifestyle of making people laugh. At the age of 3, he decided that being a funnyman was the best fit for him in the rodeo circuit. He dressed up, put the makeup on, and walked into his first arena and has yet to look back. Since that time he has performed at several rodeo finals, and performed in three different countries including Saudi Arabia. In 2018 he was awarded champion Barrelman as well as champion Specialty Act with his trick roping act. Dalton has traveled the country for the past several years entertaining Pro Rodeo and Bullriding fans.
You can find Professional Rodeo Entertainer Dalton Morris making crowds of all ages laugh with his humorous antics, trick roping and T-Shirt launching skills. You just never know what Dalton may have up his sleeve to keep you entertained.

---

Honored in 2019 with the WPRA Announcer of the Year award, longtime PRCA member Doug Mathis. In his 28 year Career, Mathis has become a top rodeo announcer in the PRCA , being heard all over the Country and Canada as he partners with longtime friend and Hall of Fame Announcer Bob Tallman as the Announcers at the Fort Worth Stock Show and Rodeo. He has also announced the Dodge National Circuit Finals Rodeo (2005), circuit finals in the Wilderness, Mountain States and Prairie Circuit, calls the action at the New Mexico State Fair & Rodeo (Albuquerque), the Kit Carson County Pro Rodeo in Burlington, Colorado, the Central Wyoming Fair & PRCA Rodeo in Casper, Wyoming and the Home of Champions Rodeo in Red Lodge , Montana. In addition to his announcing duties, he has worked in the NFR media room for over 20 years making sure the round winners get to the TV interviews each night as well as help facilitate any media contestant interview requests. When Doug and his beautiful wife Dee are not on the road they can be found on their ranch in Cleburne Texas. Keep up with Doug on Facebook, Instagram, and his website: dougmathissite.com
---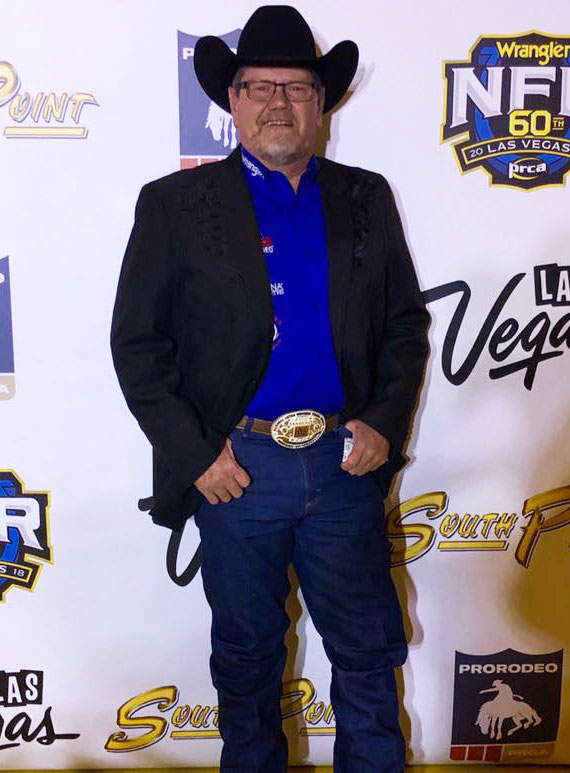 Derek Barton


Derek Barton is a Wyoming native and was raised on a ranch in Buffalo Wyoming. He grew up around cattle, horses and rodeo all his life. Derek was a radio broadcaster for over 30 years and progressed into rodeo announcing in the late 80's.
Derek is a Gold Card PRCA Member and has announced rodeo all over the country. He is also a sound and music director for many major rodeos and does about approx.75 shows a year. Derek has taken his radio and rodeo background to the next level and is now owner and host of a world-wide radio and internet show, called Talk Rodeo. The show runs 5 days a week, year-round and features interviews with the biggest names in rodeo. He has also been the internet broadcaster for the Wrangler National Finals Rodeo at the 50th Anniversary of the NFR!! On top of all that, he works the media room every year at the NFR, talking with all the nightly winners and World Champions, he produces shows for all 10 rounds of the WNFR and is a frequent host and master of ceremony at major events during the National Finals Rodeo. Derek also works at Oklahoma Panhandle State University in Goodwell Oklahoma, he is the "Voice of the Aggies" for all of the sports programs on the OPSU Campus
In his down time, he likes to sing, write music and play drums, is an auctioneer. He has 2 grown daughters, and he is a proud Grandpa to 3 Grandsons and 2 Grand Daughter.
Lastly Derek Thanks God every day for allowing him to continue this path in life and is Thankful for every day he has had. He knows life can throw a lot of surprises at you, as he was diagnosed with Stage 4 Colon Cancer back in 2007 and feels very lucky to still be here and knows God still has a plan for him.


---